Things to do in Boston in the Snow – 10 Great Family Activities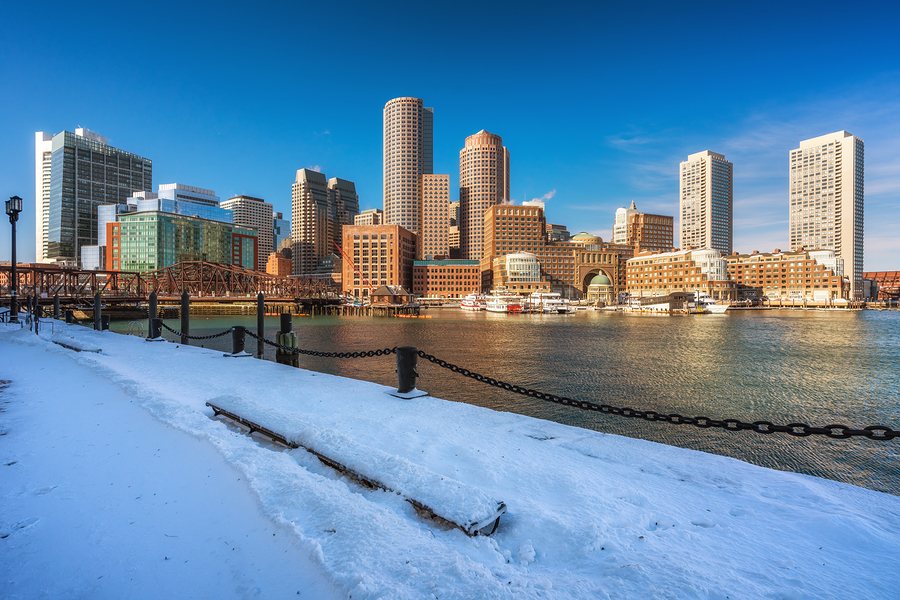 ---
---
Whether you live here or are visiting Boston, there are plenty of great family activities to enjoy. Start with these top 10 picks for fun in the snow in Boston, Massachusetts. These are family-friendly ways to get out there and see the greatest of Boston.
Sip the Best Hot Chocolate
L.A. Burdick Chocolate is Boston's artisanal answer to all things chocolate. With locations across the region, it's easy to find an L.A. Burdick hot chocolate near you when traveling around Boston. Sample white, milk, and dark chocolates including rare chocolates sourced from Madagascar, Bolivia, and other single-origin chocolate locales.
Watch Frostbite Sailing
A quintessential New England sport, frostbite sailing is both a real thing and a pleasure for its supportive sailors. Also known simply as frostbiting, this specialized type of sailing gives you the freedom of an open harbor. The Boston Harbor is a popular hangout for fellow frostbiters.
Warm Up in the Kitchen
Savor the time indoors with a cooking class or two. In Boston, you have a food lovers paradise with everything from cooking classes to full-on culinary vacations. Learn how to pair wines with your favorite dishes, or simply understand why your crab cakes never turn out correctly. Some of the best cooking schools offering cooking classes are Dave's Fresh Pasta, Milk Street Kitchen, and Formaggio Kitchen.​
Sip the Suds
Another way to warm yourself from the inside out is with a tour of a distillery in Boston. There are plenty to choose from with more than 60 distilleries in New England alone. The Boston Harbor Distillery, GrandTen Distillery, and the Bully Boy Distillers are just some of the many located here in Boston.
Go Ice Skating on Frog Pond
If you're ready to brave the cold for some family fun, head over to the Boston Common to glide across Frog Pond. Voted best outdoor skating ring in the U.S., admission is based on the skater's height — free for those under 58 inches and $5 for those over. With a winter ice skating rink and learn to skate school, a reflecting pool in the spring and fall, and a summer spray pool and children's carousel, there are always fun and exciting activities for all to enjoy. The ice skating season runs from December to March.
See the Skywalk Observatory
At the Skywalk Observatory in Boston in the Prudential Center, you get a full spectrum Bostonian experience. Along with high-end shopping at luxury brands, you have the Dreams of Freedom Museum. Here you can learn all about the history of Boston. Then take a peek from the top to see the best view in New England all from the warm indoors.
Go Museum Hopping
Everyone can find a museum they love here in Boston. All in all Boston is home to more than 60 museums. There is the John F. Kennedy Presidential Museum and Library; New England Holocaust Museum; and USS Constitution Museum.
Visit the Lizzie Borden House
Over in Fall River, Massachusetts, you can take a tour of the Lizzie Borden House. An icy cold day covered in a blanket of snow is the perfect time of the year to take this icy cold tour. Drive south of Boston 50 miles for a unique snow-capped afternoon adventure.
Go Food Shopping
The Boston Public Market is one of the biggest year-round specialty markets in the US, much less New England. Find gourmet treats, fresh fish, and local produce and those hard to find items on your shopping list.
Watch the Boston Bruins
What better is there to do when it is already cold and snowy than go watch hockey players slice across the ice? The Warrior Ice Arena located at Boston Landing is the perfect place to watch the players practice. You can watch the practices for free, which is awesome. Better yet, splurge for a ticket to one of the season games for a real treat.
Return to Blog